Air Conditioning for Chicago, AC Repair & HVAC in Chicago
Plus Mechanical, Inc. – Heating & Cooling offers full service tune-ups, repair and replacement options to ensure your home stays comfortable all year round. Our factory-trained technicians are experts in tuning up or repairing your cooling system to meet your comfort needs. With Plus Mechanical's use of up front, flat-rate pricing, you will never be surprised by a bill. Plus Mechanical also guarantees all of our work with a one-year parts and labor warranty for your peace of mind. Combining our expertise and experienced workmanship with top quality products and parts, we're sure that we can keep your family comfortable and happy all summer long!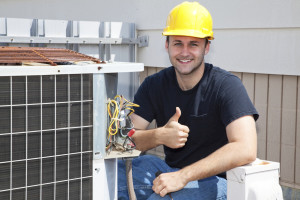 Plus Mechanical Inc. based in Chicago, Illinois offers a variety of options for clients when it comes to servicing and repairing their Air Conditioning (A/C) equipment. It is important to keep up with your Air Conditioning (A/C) equipment, so that that come summer you are able to cool your house without any need for Air Conditioning (A/C) repair. Servicing your Air Conditioning (A/C) system each year can help prevent the need for Air Conditioning (A/C) repairs overall. Air Conditioning (A/C) repairs can become costly if you do not successfully maintain and service your Air Conditioning (A/C) system. Chicago based Plus Mechanical offers service plans for their customers which can be found here. This gives you preferred treatment in the event that you do need an Air Conditioning (A/C) repair or service. Contact Chicago Air Conditioning (A/C) contractor Plus Mechanical Inc. today to schedule a service call for your Air Conditioning (A/C) repair.
Air Conditioning Repair & Service in Chicago
If your heating or cooling systems need to be replaced, we offer free in-home estimates with our knowledgeable comfort specialists, covering all of your options. Purchasing a new HVAC system (or replacing your current system) is one of the most important decisions you can make for your home and family. With our no-obligation, free in-home consultation, you can rest assured we will answer all of your questions—from energy efficiency to indoor air quality—to ensure you make a well-informed decision that is right for you and your family.
Plus Mechanical offers Air Conditioning services for Chicago and surrounding suburbs!
We know the Chicago region. Whether you're in Schaumburg, Burbank, , Oak Park, Wilmette, or downtown Chicago or anywhere else in greater Chicago land aea, we can get your AC repair done right. Our team of trained experts are familiar with all types of houses and can tackle any AC Repair job from the biggest to the smallest.